TOKYO GIRLS 'STYLE 4th JAPAN TOUR 2014 ~ Royal Mirrorball Discotheque ~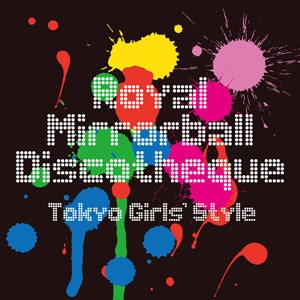 TOKYO GIRLS 'STYLE decied to hold a JAPAN tour for the fourth time! 4th tour was announced at second time Budokan, plans to remix LIVE using the sound of Royal Mirrorball Mix! The name is "Royal Mirrorball Discotheque"! This tour is different until now and a must-see!

On March 12th, The album "Mirrorball Flare + Royal Mirrorball Disocotheque", which has the tour title, and with Mr. Hiroshi Matsui, arranger and the joint name, will be released. Please also check it!


公演日
会場
開場
開演
料金
お問い合わせ
2014.03.15 (土)

[Osaka] Zepp Namba
17:30
18:00

4,000 yen [All seats reserved] Advance (tax included)

※ beverage ... 500 yen separately at the time of admission

Kyodo Information 06-7732-8888
2014.03.16 (日)

[Nagoya] Zepp Nagoya
17:30
18:00

4,000 yen [All seats reserved] Advance (tax included)

※ beverage ... 500 yen separately at the time of admission

Sunday fork 052-320-9100
2014.03.30 (日)
[Venue] Tokyo Zepp DiverCity Tokyo
17:30
18:00

4,000 yen [All seats reserved] Advance (tax included)

※ beverage ... 500 yen separately at the time of admission

Sogo Tokyo 03-3405-9999
2014.04.05 (土)

Yes tickets some equipment per seat open

[Tokyo] SHIBUYA-AX
17:30
18:00

4,000 yen [All seats reserved] Advance (tax included)

※ beverage ... 500 yen separately at the time of admission

2014.04.06 (日)

Yes tickets some equipment per seat open

[Tokyo] SHIBUYA-AX
16:00
16:30

4,000 yen [All seats reserved] Advance (tax included)

※ beverage ... 500 yen separately at the time of admission

Sogo Tokyo 03-3405-9999
2014.05.03 (土)
[Sapporo] PENNY LANE 24
17:00
17:30

4,000 yen [All Standing] Advance (tax included)

※ beverage ... 500 yen separately at the time of admission

※ It becomes your entry in reference number order

Music fan 011-208-7000
2014.05.05 (月)

[Sendai] RENSA
17:00
17:30

4,000 yen [All Standing] Advance (tax included)

※ beverage ... 500 yen separately at the time of admission

※ It becomes your entry in reference number order

GIP 022-222-9999
2014.05.17 (土)

[Fukuoka] IMS Hall
17:30
18:00

4,000 yen [All seats reserved] Advance (tax included)

KyodoNishinihon 092-714-0159
2014.06.15 (日)

Current tickets available.

[Tokyo] Hibiya Amphitheater
16:30
17:30

5,000 yen [All seats reserved] Advance (tax included)

Sogo Tokyo 03-3405-9999
Organized by: Lawson HMV Entertainment

■Each booth open time
Goods sold Booth ・ Fan Club Booth: 13:30 scheduled
CD sales booth: 16:30 scheduled

[Tickets on Sale]

6/15 (Sun) Hibiya Open-Air Concert Hall
Office Hours: 16:00 ~
Place: Box Office on spot near Venue Entrance
Charge: 5,500 JYen
Kind of Seats planned: Designated Seats(some)/Standing(rear area of the designated seats)
*Please understand the standing ticket will be sold after the completion of the sale of the designated seat one.

[As for the sale of CD]
*Sale/Reception Stand except Hibiya Outdoor Music Hall on June 15th(Sun): since 2 hours prior to admission to every
venue(planned)

[Premium 1]
[Cross~film[horror story of school - story soul of curse-] Ver.~], the single on sale on May 21st will be presented to the bookers as the premium.

One item reservation ticket••• A copy of local photo ※ Being delivered with the item.
Simultaneous reservation of three item ••• Admission ticket for the "commemorative photograph session" (one ticket)

Those who have admission tickets for the "commemorative photograph session" will be permitted to participate the session being held after the end of the event.For those who are participating the "commemorative photograph session, they will be allowed to take photos of members using own cellphone or smartphone.As there is reference number indicated on each admission ticket, please queue in line according to the reference number while following the direction of our staff(s).Our staff(s) will direct multiple
participants in the order of reference numbers to form a group and let each group participate the photo session one by one.

※ Cellphone or smartphone with camera can only be allowed to use during the photo session. It is prohibited to used other devices deemed to be considered as cameras.
※ It will be prohibited to take video clips.
※ Please note that our staffs will decide for the duration of each group to participate the photo session by their own discretion.
※ It will be prohibited to ask members to take specific pose and to have something etc.
※ For those with multiple admission tickets for the photograph session, please queue to the very last position of the queuing line after participating preceding session for the following round as the reference number for the preceding participation becomes invalid.
※ A place of photograph session is different from a venue to a venue (stage/lobby/seats), so our staff(s) will direct you to the place.
※ The photograph session will be held after the end of the performance.
※ The sponsor will not have any responsibility for the time of last train to go home after the end of the event. Please check those times prior to participate the event by your own.

[Special Gift 2]
One original postcard present for those customers who purchase [Mirrorball Flare + Royal Mirrorball Discotheque] at the venue on sale from 12th March.
** The picture on the postcard is of Hiroshi Matsui and TOKYO GIRL'S STYLE, the design features Hiroshi Matsui's stamp.

ATTENTION
** [The Memorial Photograph Session], you will be required to wait in line, and depending on the conditions at the venue the event may be ended without notice.
** Please do not inquire at the venue. This will cause the event to be cancelled.
*Securing spaces etc. by placement of belongings as well as sit-ins within the facility or the venue will not be permitted. Please note staff may provide instructions to relocate.
*Please note the ticket to participate in the commemorative photo session cannot be reissued under any circumstance (including loss and theft, etc).
*Ticket to participate in the commemorative photo session is valid only on the day of the event at the specified time.
*Any other actions of photographing, recording, video recording outside of the time offered by the staff and while the artist is performing are not permitted.
*Number of pre-order CDs/units available for sale and each special offer is limited. Please note that offer will end once supplies are depleted.
*Acceptable payment method is cash only. Please note that other methods of payment such as credit card cannot be accepted.
*If a pre-order is placed for a qualifying product, full payment must be paid in advance.
*Please confirm delivery method or pre-ordered item (in-store pick up/shipment etc) at the CD sale booth of each venue.
*If receipt by delivery is preferred, a separate shipping fee must be paid in addition to the cost of the product.
We will not refund for the items for which participants made a reservation. We request that they understand it in advance. We will exchange the item with defect with the one without defect.
If a participant participates in taking a picture as commemoration with a child who is older than 3 years old, he or she has to purchase the ticket.
The act of staying overnight in the hall is a nuisance to residents in the neighborhood, so please stop it. If we find that participants stay overngiht, we might stop the live concert.
The participants must be responsible for the expense for transportation and staying at a hotel,e tc. on the day.
※ If by any reasons of equipment failure, natural disasters, or transportation strike of the venue, it is determined that live unable to be carrid on, we will cancel the live.
※ The contents of the live may be changed by the situation of members. Please understand beforehand.

Contact Us
Avex Marketing Inc.
0120-85-0095(11:00 to 18:00 weekdays only)