The detail of "Tokyo Woman Re-mix Contest", which has been planned for a long time, is finally decided!
We are now looking for the re-mix sound resource by using the track of "Vocal Only for REMIX" which is in the single CD!
Whoever got Grand-prix, his/her song will be released with the name of "Tokyo Woman" and will be receiving the gift as well!!Please challenge it!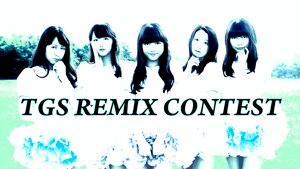 Application's detail and cautions
■Name: Tokyo Woman Re-mix Contest (after this, "The Contest")
■ Application requirement
・Whatever age, gender or country
■ Application method
・Method of the song for remix, the title of video, the way to add tag
----------
①TOKYO GIRLS' STYLE 12/10 on sale 17th new single "GAME"
※ Please buy the single album which release on 2014.12.10, and use "GAME -Vocal Only for REMIX-" in the album for remixing.
[type-A]CD+DVD AVCD-83146/B ¥2000(tax out)
[type-B]CD+DVD AVCD-83146/B ¥1800(tax out)
[type-C]CD AVCD-83146/B ¥1000(tax out)
・The title of video is "TOKYO GIRLS' STYLE GAME -◯◯◯◯-"(Please fill in "○○○○" at ease)、
and please tag ""東京女子流リミックス17th" (TOKYO GIRLS' STYLE Remix 17th) to log in.
----------
②TOKYO GIRLS' STYLE 3/11on sale 18th new single「Untitled」
※Please buy 「Title Undecided -Vocal Only for REMIX-」recorded in Single CD M7 which released in 2015.3.11 before use Sound source.
[type-A]CD+DVD AVCD-83185/B ¥2000(tax out)
[type-B]CD+DVD AVCD-83186/B ¥1800(tax out)
[type-C]CD AVCD-83187 ¥1000(tax out)
・Posting title is "Tokyo woman 'title is not decided' (※this will be the song title which is in the 18th single CD) -◯◯◯◯- (please type whatever you want)", and tag is "Tokyo woman re-mix 18th" and lock it, please.
----------
・Please post the re-mix sound resource which is created by applicants with the image used with material picture to the Niconico douga.
※Please right click image "
https://bit.ly/tgsremiximage
" and down load by "save images".
・Please abide by the "application rules" when applying and creating your videos for application.
・You are not able to apply through niconico mobile service. Please watch videos and apply through PC version of niconico channel.
niconico video upload page URL:
http://ch.nicovideo.jp/tokyogirlsstyle
■Selection method & announcement of results
・After the application period is over, videos will be selected to decide on the winning video based on the number of views and comments of the videos.
・Please note that we are not able to answer any questions regarding selection process, content and results.
■Announcement of selected videos
・The winner will be notified by email from the organizer.
・The winner will be announced at the end of April 2015 on this channel.
※The email refers to your email address which is used for niconico video ID that you upload your video with. Please confirm your email address prior to application.
※I will contact you by e-mail with "@ dwango.co.jp". Please check the unset of domains.
■ Entry Period
January 10 - April 15 to 2015, 2015 23:59:59
■ prizes
As remix song of Tokyo Girls' Style, to prepare for release! In addition a nice prize!
■ Inquiries
Avex Music Creation Co., Ltd. 0570-064-414 (weekdays 11:00 to 18:00)
Application rules
1. Once the applicant has downloaded the subject file, it is considered that he/she has agreed to these rules.
2. Please abide by the rules of niconico video terms of use and niconico video terms of application concerning file types and application.
3. When creating a video to apply, please be careful not to record production materials which belong to others, company names, product names and such, portraits of others without their permissions and materials from which people may be able to identify private information.
4. If there is a difference between an applicant and a holder of the copyright of the work, performers and those related thereto (hereinafter referred to as "those related thereto, etc."), the applicant shall explain that this contract aplies to all those who are related thereto, etc. in advance, and obtain an their approval. Our company shall not be responsible for all the claims and the requests that arise between the applicant and those who are related thereto, etc.
5. You shall attach the moving picture subject to the following rule.
① Title: "Tokyo Girl's Style Game-○○○○-" (please fill out the ○○○○ at your discretion),
Tag: "Tokyo Girl's Style Remix 17th"
②Title "TOKYO GIRLS' STYLE Undecided Title (※ 18th Single Recorded Song title) - -◯◯◯◯-"(please put whatever you would like in place of ○○○○), tag "TOKYO GIRLS STYLE Remix 18th"
If the title is incorrect, or if a tag is not attached it is possible your entry will not be judged.
6. Please make the video application as 1 file.
7. The Song's copyright belongs to the copyright holder, the usage of the song is only allowed for the purpose of the attendance to the contest. It is prohibited by law to copy, modify, or transfer beyond the private usage in the household except for the purpose of this contest.
8. Posting movie will be used for the purposes listed below. There is a case that the movie will be modified if necessary.
(1) Posting on TOKYO GIRL'S STYLE official site
(2) Usage in the internet broadcast of the official TOKYO GIRL'S STYLE
Applicants must allow us to give all the rights for the usage.
9. You are not allowed to post to the other website except Niconico douga. If its existence was observed in the other website, the applicant will be disqualified.
10. If there is any violation of the rule, we will delete the file without notification and we will disqualify you.
11. The question regarding the screening process and screening result will not be answered.
12. Our company, related company, outsourcing company, and judges will not be responsible for any kind of damage, injury, or loss which was caused due to the application to this event.
13. Information of the application (including profile and personal information) will be used only for the usage listed below by Avex Music Creative, Inc (from now, "our company") and Avex Group following with the "Avex Group Personal Information Protection Rule" (http://www.avex.co.jp/privacy/index.html)
(1) Used in the purpose of proceeding this contest
(2) Additional Information regarding rules and usage of「Avex Group's Privacy Policy」
14. By participating in this contest, the applicant accepts that, our company and affiliates are not responsible for any damage, injury or loss that may occur related to this contest.
15. Participation, as well was the application and interpretation of terms and conditions of this contest shall be governed by the Japanese law.
16. Applicant is assumed to be agreed to use Tokyo District Court or Tokyo Summary Court in case of the necessity of any law kind of suits about this website or this rule between the applicant and our company.
17. This rule can be changed without notification.